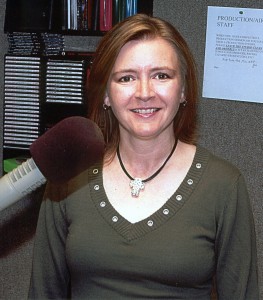 On the air:  Weekdays 10:00am – 3:00pm.  I'm also the webmaster.
Where I come from:  Leitchfield, KY
The stork dropped me off on:  March 23.  If you want to know what year, all I have to say is, "Didn't your mama teach you any manners?"
I really annoyed my teachers at:  Grayson County High School
Then they shipped me off to:  Western Kentucky University
Family:  I have a wonderful daughter, Natalie, who is 22 and is a graduate of University of Kentucky.
Favorite Singers:  Martina McBride, Trisha Yearwood, Easton Corbin, George Strait, Merle Haggard, Alan Jackson, Trace Adkins, Jake Owen, Luke Bryan, Garth Brooks
Favorite Groups:  Alabama, Lady Antebellum, The Kody Norris Show, Montgomery Gentry, Restless Heart, KISS, Rush, Tannahill Weavers, Father Son & Friends
The best darned guitar players in the world:  Chet Atkins, Vince Gill, Brad Paisley, Steve Wariner, Lee Roy Parnell, Keith Urban, Jerry Reed, Alex Lifeson
Favorite Food:  German, Indian, Chinese and of course, my Mama's fried chicken livers and pinto beans & cornbread!
Favorite Teams:  WKU, UK, the TN Titans
Favorite Actors & Actresses:  Harrison Ford, Patrick Stewart, Mandy Patinkin, Kyra Sedgwick, Sandra Bullock, Katharine Hepburn, Forrest Whitaker, Tom Hanks
Favorite Movies:  Maleficent, Rob Roy, 50 First Dates, Lord of the Rings, Pirates of the Caribbean, Chronicles of Narnia, Pretty Woman, The Breakfast Club, Ferris Bueller's Day Off, Scrooged, Groundhog Day, Die Hard, Last Of The Mohicans, Dangerous Liasons, Terminator 2 and ALL of the Lethal Weapon movies
Favorite TV Shows:  Designated Survivor, Blue Bloods, NCIS, Law & Order: SVU, Law & Order: Criminal Intent, Criminal Minds, Burn Notice, Dr. Who, CSI: Miami, Keeping Up Appearances, Flashpoint, Star Trek: TNG, Star Trek: DS9
Hobbies:  Photography, sewing & costuming, reading, historical re-enactment (middle ages and 18th century) and anything that has to do with powertools and computers!
Time at the Beaver:  I started on the 9am to noon shift in December 1997.  Has it really been that long?  Seems like yesterday…
The first place they were crazy enough to hire me:  The station I grew up listening to – WMTL-AM in Leitchfield, KY (1985) – and I'm proud of it!
Email me at shannonpresley@beaverfm.com