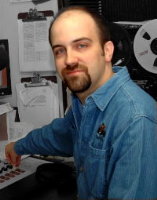 on the air:  3:00-6:00pm weekdays (Join me for the "drive home"!)
born:  July 7 in Ashland, OH
raised:  in Frankfort, KY
schooled:  Franklin County High School and Western Kentucky University
music I like:  a little bit of everything!  Some of my favorite performers include Johnny Cash, Alison Krauss, The Who, Eric Clapton, Elton John, Willie Nelson, Waylon Jennings, and the best band ever–THE BEATLES!!
movies I like:  Pulp Fiction, Raiders Of The Lost Ark, Blue Velvet, Willie Wonka & The Chocolate Factory, The Blair Witch Project
favorite foods: fried chicken, pasta, Mexican, Chinese buffets…(I'd better stop; I'm getting hungry!)
why radio:  When I was growing up, I used to make tapes of myself playing records and pretending to be a DJ.  It's what I always wanted to do.  Besides, it's great having a job where you get to talk and play music!
time served:  I started working part-time overnights at the Beaver in 1990 while I was in college.  They haven't been able to get rid of me yet!
Thanks for reading about me.  If you've got something you want to say, give me a call when I'm on the air.  Or drop me a line at alanaustin967@yahoo.com.
Keep on keepin' on,
AA