Latest updates and news from the office of Governor Andy Beshear
governor.ky.gov/news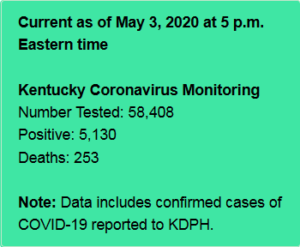 More information
The Governor is asking all Kentuckians to continue to fight the spread of the virus by following his 10-step guidance, which includes practicing social distancing and staying healthy at home. Gov. Beshear says these efforts have the potential to save the lives of as many as 11,000 Kentuckians.
Read about other key updates, actions and information from Gov. Beshear and his administration at governor.ky.gov, kycovid19.ky.gov and the Governor's official social media accounts Facebook, Twitter and YouTube. Watch the Governor's social media accounts at 5 p.m. ET each day for his regular briefing.
The U.S. Centers for Disease Control and Prevention (CDC) encourages people to follow these steps to prevent illness. Kentuckians who want advice can call the state hotline at 800-722-5725 or call their local health care provider.
Team Kentucky hashtags for social media
#TeamKentucky, #TogetherKY, #Patriot and #HealthyAtHome.